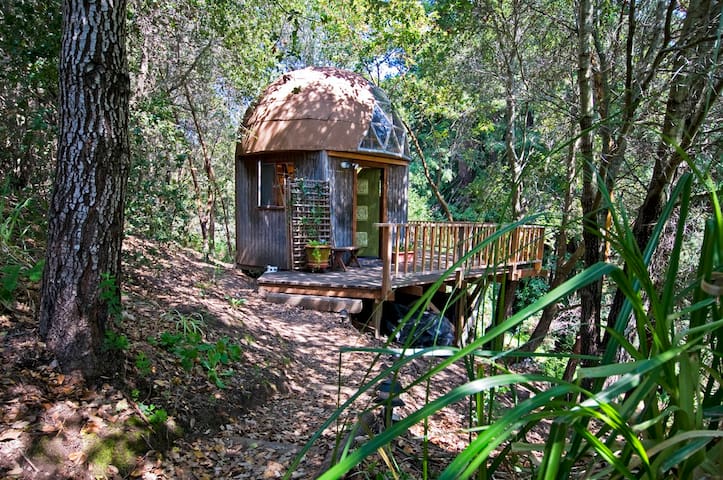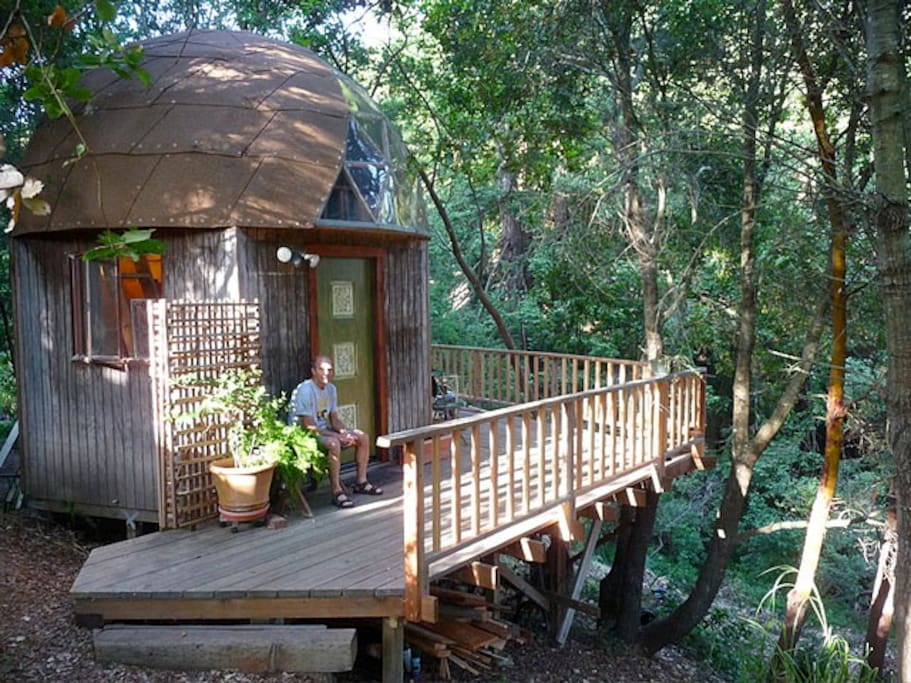 Con un loft cúpula geodésica y una gran cubierta en los árboles, te sentirás como si estuvieras en una casa en el bosque. (No se puede reservar? Si desea un retiro de la naturaleza aquí, reserve nuestro dulce Hummingbird Haven: https://www.airbnb.com/rooms/6562632) Estamos en una ubicación tranquila pero conveniente. A la sombra de Oak y Madrone árboles y al lado de un bosque de Redwood, se puede disfrutar al aire libre desde la cubierta. En el verano, es fresco y en el invierno puede llegar a escuchar el arroyo corriendo por debajo.
With a geodesic dome loft & a large deck in the trees, you'll feel like you're in a tree house in the woods.
(Can't book? If you would like a nature retreat here, reserve our sweet Hummingbird Haven: https://www.airbnb.com/rooms/6562632)
We are in a quiet yet convenient location. Shaded by Oak and Madrone trees and next to a Redwood grove, you can enjoy the outdoors from the deck. In the summer, it is cool and in the winter you might get to hear the creek running below.
El lugar
Tenemos 10 hectáreas junto a la tierra sin cercas para que pueda disfrutar de la naturaleza: simplemente pasar el rato en la cubierta, tomar una caminata en el bosque, ver los colibríes, mascota de las cabras, ir a la playa o mirar a las estrellas - como siempre y cuando la luna no esté llena. ; ) Durante el verano, si no hay niebla nocturna, podemos ver la Vía Láctea aquí. Para comprobar nuestra disponibilidad, haga clic en el enlace "Solicitar al libro". Y sí, si no está disponible, ya está reservado! Si desea quedarse aquí en un fin de semana durante el verano, tendrá que hacer su solicitud de reserva con unos 6 meses de antelación. Sin embargo, ocasionalmente obtendremos una cancelación, por lo que si desea una fecha que ya está reservada, puede informarnos y le notificaremos de una cancelación. Si quieres quedarte aquí, pero el Dome de hongos está reservado, ahora tenemos el Hummingbird Haven disponible: https://www.airbnb.com/rooms/6562632. Usted tendrá el mismo acceso a la naturaleza y la caminata en las secoyas, una gran vista y mucha privacidad. Sin mencionar los cientos de Colibríes que zumban alrededor del estudio, el sol, un jardín de flores y una fuente en su patio privado. (Por favor, lea toda esta descripción antes de hacer una solicitud de reserva.) La acogedora y limpia cabaña semi-rústica tiene un altillo debajo de una cúpula geodésica (la "tapa de seta"). En el loft es una reina de tamaño super popular colchón Casper que permite dormir muy cómodo y simplemente pasar el rato, Proporcionamos sábanas limpias y fundas de almohada. Un montón de mantas también se proporcionan. La otra "cama" es un sofá que podemos hacer en una cama. Si va a ser 2 de ustedes, pero quiere camas separadas, por favor haga la reserva para 3 o hágamelo saber antes de tiempo - hay un $ 10. cargo por usarlo como una cama. En el desván tenemos una pantalla plana HD de 32 "y un reproductor de DVD (sin TV) para películas (tenemos más de 80 películas que puedes ver también). En la planta principal (un Pentágono) es el sofá y una mesa desplegable, así como una pequeña cocina. Aquí encontrará una plancha profesional doble, un refrigerador pequeño, un horno tostador, una licuadora, una palomita de maíz caliente, una prensa de café francesa, un hervidor de ensalada, incluso un mezclador, y todos los platos y equipos necesarios para preparar un refrigerio o una comida. o para abrir una copa de vino. Tenemos 2 mesas donde se puede disfrutar de comidas, juegos, etc .: 1 dentro y 1 fuera en la gran terraza que se enfrenta a las secoyas. También tenemos una barbacoa en la cubierta con un quemador de gas adicional en el lado. Ofrecemos café orgánico, tés, harina de avena, palomitas de maíz, mantequilla, miel, azúcar, levadura nutricional (para las palomitas de maíz) especias, aceite y vinagre y varios bocadillos. Nuestro agua de pozo es tratada por un ozonizador, una luz UV y un filtro de agua suave. Si tiene un bebé y no necesitará la segunda cama, haga su reserva para 2 y háganos saber si necesitará una pequeña almohadilla para el loft. Una vez más, si hay 2 de usted, pero desea utilizar la segunda cama, por favor, haga su reserva para 3. El bonito cuarto de baño tiene una ducha de travertino, fregadero de azulejos personalizados y un aseo de compostaje autónomo de Natures Head. Algunos invitados han tenido un problema con nuestro cuarto de baño, así que quiero dejar claro que tenemos una cortina para la puerta del baño y que requieren que ponga su papel higiénico usado en la basura. (no olerá) Si sigue las instrucciones para usar el inodoro, no tendrá ningún olor. Si la idea de usar un inodoro de compostaje grosses, no hacer una reserva aquí. ; ) Ofrecemos toallas, jabón, champú, acondicionador, un secador de pelo, etc. (una palabra de precaución: el baño tiene un techo bajo. Si tienes más de 6 'puede que tengas que hacer un poco ducking aquí y allí.) Como los sábados son muy demandados, (y nos gusta ser libres los sábados), se requiere un mínimo de 2 días de estancia los fines de semana. Tenga en cuenta que los viernes y sábados por la noche son $ 145. cada. Por lo tanto, para quedarse aquí en un fin de semana costará $ 290. más los $ 35. la tarifa de limpieza, la cuota de airbnb de $ 40 y el 11% del Impuesto Transitorio del Condado de Santa Cruz de aproximadamente $ 35. Así que para el fin de semana, será un total de alrededor de $ 444. Para permanecer durante 1 día a mitad de semana cuesta un gran total de alrededor de $ 200. En 3 días de vacaciones, se requiere una reserva de 3 días. (Esto incluye Día de los Presidentes, Memorial Day, MLKing día y Día del Trabajo.) Pero para quedarse aquí en un fin de semana, por lo general tendrá que reservar la cabina 6 - 8 meses de antelación - a menos que tenga la suerte de encontrar una cancelación! La hora de registro es entre 4 y 10pm. Si quieres venir tarde o temprano, esto a veces puede arreglarse. Hora de salida es mediodía. Como hemos experimentado algunos daños de los huéspedes, ahora estamos solicitando un $ 100. depósito de seguridad. A pesar de que se siente muy aislado aquí, estamos a menos de 10 minutos de Aptos Village, donde encontrará tiendas, restaurantes, una tienda de alimentos saludables, Safeway, etc Estamos ubicados en la bahía de Monterey: a 10 minutos de la playa (Río Del Mar y Seacliff State Beach), así como el parque de 10.000 hectáreas Nisene Marks State para kilómetros de senderismo o bicicleta de tierra en las Secoyas y a lo largo del arroyo Aptos. Estamos a 20 minutos del centro de Santa Cruz, a 25 min. a la playa Boardwalk, a 45 minutos de Monterrey y el mundialmente famoso Acuario de la Bahía de Monterey, a 50 min. a Carmel y 1 1/2 horas a Big Sur que va al sur y San Francisco al norte. Yup, estamos ubicados en una de las zonas más bellas de California. (estos tiempos no son durante las horas punta); Una de las atracciones que damos por sentado es que se puede ver estrellas aquí en la noche - a menos que haya una brillante luna o nubes. Durante el verano, en una noche clara podemos ver la Vía Láctea. Si te gustan los colibríes, trae tu cámara. Nuestro jardín es el hogar durante todo el año a muchos colibríes de Ana. (Tenemos generalmente alrededor 250-500 durante todo el año) Durante el verano, también somos llamados hogar por muchos Rufus y Hummers de Allen también. Así que tienes que ver nuestro "Hummingbird Airport" donde los alimentamos alrededor de 160 oz. de jarabe en un día de verano! Por favor, no fumar en la cabina o en la propiedad. Solíamos dejar fumadores estancia aquí, pero apestan la cabaña y es un riesgo de incendio fuera. Algunos teléfonos celulares no funcionan aquí, pero ya que tenemos wifi gratuito en la cabina, si su teléfono funciona con una red wifi, que son buenos para llamar. A veces puede obtener servicio de Verizon en el asiento de balanceo por la calzada. Para aprender sobre las cosas que hacer en la zona, haga una búsqueda en Internet para Santa Cruz, CA. Los perros son bienvenidos para quedarse aquí, pero con unos pocos requisitos: ya que tenemos tantos animales, exigimos que sus perros se mantengan en una correa cuando fuera (las cabras se ponen muy nervioso con perros sueltos grandes). Además, no permitimos perros en el desván o en el sofá abajo, así que por favor traiga una cama de perrito. (su perrito puede ir en el sofá si usted trae una cubierta para él) Si eso es difícil, déjenos saben y proporcionaremos una almohadilla del perrito. Tenemos una puerta que podemos configurar para que su perro puede estar fuera de la correa en la cubierta. Si usted está trayendo a un niño pequeño, podemos poner un futón plegable (2 / 3rds del futón o una almohadilla de espuma al lado de la cama) Sólo háganoslo saber de antemano. Tenga en cuenta, sin embargo, que un niño no debe dejarse en el desván por sí mismos como la cama es bastante alto contra el carril. Como estamos a unos 3 kilómetros a la parada de autobús más cercana, es bastante difícil alojarse aquí sin un coche. Usted está invitado, si usted siente que sería armonioso aquí, para venir unirse a nosotros en nuestra granja en desarrollo de Permacultura. Pet las cabras, echa un vistazo a nuestros pollos, gatos, perros en miniatura y disfrutar del aire muy fresco. Tal vez te enseñe a ordeñar una cabra. Si vienes aquí cuando no hay luz de luna y el cielo está despejado, verás muchas estrellas. ¿Cansado del calor en el verano? Ya que estamos en el borde del "cinturón de niebla", puede ser soleado y fresco aquí. Si quieres un lugar ruidoso, no te gustará aquí: la mayoría del sonido aquí viene de los pájaros o grillos chirriando, las ranas de árbol croar y la brisa soplando a través de los árboles. La gente vive en la tierra aquí, así que no esperes que sea totalmente desprovisto de sonidos humanos y la sierra de cadena ocasional. :) (Alimentamos las ramas de roble de cabra)
We have 10 acres next to land without fences so you will get to enjoy nature: just hang out on the deck, take a hike in the woods, watch the hummingbirds, pet the goats, go to the beach or gaze at the stars - as long as the moon isn't full. ; ) During the summer, if there isn't any nightly fog, we can see the Milky Way here.
To check our availability, click on the "Request to Book" link. And yes, if it isn't available, it is already booked! If you want to stay here on a weekend during the summer, you will need to make your reservation request about 6 months in advance. We do, however, occasionally get a cancellation, so if you want a date that's already booked, you can let us know and we will notify you of a cancellation. If you want to stay here, but the Mushroom Dome is booked up, we now have the Hummingbird Haven available: https://www.airbnb.com/rooms/6562632. You will have the same access to nature and the hike in the redwoods, a great view and lots of privacy. Not to mention the hundreds of Hummingbirds that hum around the studio, sun, a flower garden and a fountain on your private patio.
(Please read all of this description before making a reservation request.)
The cozy and clean semi-rustic cabin has a loft under a geodesic dome (the "mushroom cap"). In the loft is a Queen-sized super popular Casper Mattress which allows for very comfortable sleeping and just hanging out, We provide clean sheets and pillow cases. Plenty of blankets are also provided.
The other "bed" is a couch that we can make up into a bed. If there are going to be 2 of you, but you want separate beds, please make the reservation for 3 or let me know ahead of time - there is a $10. charge for using it as a bed.
In the loft, we have a 32" HD Flat Screen and a DVD player (no TV) for movies. (We have over 80 movies you can view as well.)
On the main floor (a Pentagon) is the couch and a pull-out table as well as a mini kitchenette. Here you will find a professional double hotplate, small refrigerator, toaster oven, blender, Hot Air Popcorn Popper, French Coffee Press, a salad spinner - even a mixer- and all the dishes and equipment you would need to prepare a snack or a meal or to open a glass of wine. We have 2 tables where you can enjoy meals, games, etc.: 1 inside and 1 outside on the large deck that faces the redwoods. We also have a barbecue grill on the deck with an extra gas burner on the side. We provide Organic Coffee, teas, Oatmeal, popcorn, butter, honey, sugar, nutritional yeast (for the popcorn!) spices, oil and vinegar and various snacks. Our well water is treated by an ozonator, a UV light and a soft water filter.
If you have a baby and you won't be needing the second bed, make your reservation for 2 and let us know if you will need a small pad for the loft. Again, if there are 2 of you but you want to use the second bed, please make your reservation for 3.
The cute bathroom has a Travertine shower, custom tiled sink and a Natures Head self-contained composting toilet. Some guests have had a problem with our bathroom, so I want to make it clear that we have a curtain for the door to the bathroom and we require that you put your used toilet paper in the trash. (it won't smell) If you follow the instructions for how to use the toilet, it won't have any odor. If the thought of using a composting toilet grosses you out, then don't make a reservation here. ; )
We provide towels, soap, shampoo, conditioner, a hair blow-dryer, etc. (a word of caution: the bathroom has a low ceiling. If you are over 6' you may have to do a little ducking here and there.)
As Saturdays are very much in demand, (and we like to be free on Saturdays), we require a minimum 2 day stay on the weekends. Keep in mind that Friday and Saturday nights are $145. each. Therefore, to stay here on a weekend will cost $290. plus the $35. cleaning fee, the $40 airbnb fee and the 11% Santa Cruz County Transient Tax of about $35. So for the weekend, it will be a total of about $444.
To stay for 1 day mid-week costs a grand total of about $200.
On 3 day holidays, we require a 3 day reservation. (This includes Presidents Day, Memorial Day, M.L.King day, and Labor Day.) But to stay here on a weekend, you will usually have to book the cabin 6 - 8 months in advance - unless you are lucky to find a cancellation!
Check-in time is between 4 and 10pm. If you want to come sooner or later, this can sometimes be arranged. Check-out time is noon.
As we have experienced some damage from guests, we are now requiring a $100. security deposit.
Although it feels very isolated here, we are less than 10 minutes to Aptos Village where you will find stores, restaurants, a health food store, Safeway, etc.
We are centrally located on the Monterey Bay: 10 minutes from the beach (Rio Del Mar and Seacliff State Beach) as well as the 10,000 acre Nisene Marks State Park for miles of hiking or dirt biking in the Redwoods and along Aptos creek. We are 20 minutes to downtown Santa Cruz, 25 min. to the Beach Boardwalk, 45 minutes to Monterey and the world-famous Monterey Bay Aquarium, 50 min. to Carmel and 1 1/2 hours to Big Sur going south and San Francisco to the North. Yup, we are located in one of the most beautiful areas of California. (these times are not during rush hour(s) ; )
One of the attractions that we take for granted is that you can see stars here at night - unless there is a bright moon or clouds. During the summer, on a clear night we can see the Milky Way.
If you love hummingbirds, bring your camera. Our garden is the year-round home to many Anna Hummingbirds. (We usually have about 250-500 year-round) During the summer, we are also called home by many Rufus and Allen Hummers as well. So you have got to see our "Hummingbird Airport" where we feed them about 160 oz. of syrup on a summer day!
Please, no smoking in the cabin or on the property. We used to let smokers stay here, but they stink up the cabin and it is a fire hazard outside.
Some cell phones don't work here, but since we have free wifi in the cabin, if your phone works with a wifi network, you are good to call. You can sometimes get Verizon service on the swinging seat by the driveway.
To learn about things to do in the area, do an internet search for Santa Cruz, CA.
Dogs are welcome to stay here but with a few requirements: since we have so many animals, we require that your dogs be kept on a leash when outside (the goats get very nervous with large loose dogs). Also, we don't allow dogs in the loft or on the couch downstairs so please bring a doggie bed. (your doggie can go on the couch if you bring a cover for it) If that is difficult, let us know and we will provide a doggie pillow. We have a gate that we can set up so your dog can be off the leash on the deck.
If you are bringing a small child, we can put a folding futon (2/3rds of the futon or a foam pad next to the bed ) Just let us know ahead of time. Keep in mind, though, that a child should not be left in the loft by themselves as the bed is fairly high up against the rail.
As we are about 3 miles to the nearest bus stop, it is pretty difficult to stay here without a car.
You are invited, if you feel you would be harmonious here, to come join us on our developing Permaculture farmette. Pet the goats, check out our chickens, cats, miniature dog and enjoy the very fresh air. I might even teach you how to milk a goat. If you come here when there is no moonlight and the sky is clear, you will see lots of stars.
Tired of the heat in the summer? Since we are on the edge of the "fog belt", it can be both sunny and cool here. If you want a noisy place, you won't like it here: most of the sound here comes from the birds or crickets chirping, the tree frogs croaking and the breeze blowing through the trees. People do live on the land here though, so don't expect it to be totally devoid of human sounds and the occasional chain saw. : ) (We feed the goats oak branches)
Disponible para huéspedes
Hay wifi gratuito en la cabaña, agua de pozo y algunas buenas rutas de senderismo justo al lado de la cubierta, así como una caja de arena de la naturaleza en el arroyo seco cama bajo el bosque de secoyas. (En el invierno, puede tener agua corriente) Los huéspedes también son bienvenidos a pasear, visitar a nuestros animales en nuestra pequeña "farmette" (3 cabras, un montón de pollos, un perro pequeño y 2 gatos) y hacer preguntas.
There is free wifi in the cabin, great well water and some good hiking trails right off the deck as well as a nature sandbox in the dry creek bed under the redwood grove. (In the winter, it can have running water) Guests are also welcome to wander around, visit our animals on our little "farmette" (3 goats, lots of chickens, a small dog and 2 cats) and ask questions.
Atención a los huéspedes
Yo casi siempre interactuar con nuestros clientes. Me encanta hacer que se sientan bienvenidos y en casa, mostrarles los colibríes y compartir mi conocimiento de los grandes lugares para ir en nuestra hermosa zona. Déjame saber si no quieres interactuar conmigo y te dejaré en paz rápidamente. ; )
I almost always interact with our guests. I love to make them feel welcome and at home, show them the hummingbirds and share my knowledge of the great places to go in our beautiful area. Let me know if you don't want to interact with me and I'll leave you alone quickly. ; )
Otros aspectos destacables
Tenemos un camino bastante estrecho - y en pocos lugares, empinado -. Hay turnos para pasar los coches que se acercan. Por favor, tómalo despacio. Ocasionalmente, tenemos un apagón durante el invierno. Si eso sucede, le proporcionaremos luces con pilas. Si la carretera principal está bloqueada por un árbol derribado, te haré saber cómo entrar o salir de nuestra zona.
We have a rather narrow - and in a few places, steep - driveway. There are turnouts to pass oncoming cars. Please take it slowly.
Occasionally, we have a power outage during the winter. If that happens, we will provide battery operated lights. If the main road is blocked by a downed tree, I'll let you know how to get in or out of our area.
---
Apto para familias y niños
---
Personas adicionales $179 ARS / noche más de 2 huéspedes
Tarifa de limpieza $625 ARS
Depósito de seguridad $1786 ARS
Precio por fin de semana $2590 ARS / noche
Respalda garantía de sueldo base
Las personas que se encargan de la limpieza del espacio de este anfitrión reciben un sueldo base.
Más información
Comunícate siempre a través de Airbnb
Para que tus pagos estén protegidos, nunca transfieras dinero ni te comuniques desde afuera de la página o la aplicación de Airbnb.
Más información
---
Dormitorio 1
1 cama tamaño queen
---
No se admiten fiestas o eventos
La hora de llegada es a partir de las 16:00
Salida antes de las 12:00
• Please, no smoking either in the cabin or on the property
• Please don't sleep here with tooth or skin whitening material: they bleach the pillow cases and sheets.
• If you want to bring a dog, please send a request. (We have goats and cats) As so many people are allergic to cats, please don't bring yours.
• Dogs must stay on a leash when outside.
• Dogs are not allowed in the loft.
• No wild parties, please.
• Please don't drink wine in the loft.
• If you use the barbecue, you are required to clean it. But don't close the side lid if the burner is still hot!
• Please wash and put away your dishes, pots, etc. before leaving.
• Please don't bring a lot of food or water in plastic. (those #1 clamshells can't be recycled)
We provide all the dishes you will probably need, so please don't bring disposables either.
• If you want to use real candles, please talk to us first. We provide a rose quartz mood light.
• Please take short showers.
Aspectos que también debes tener en cuenta
Es necesario utilizar las escaleras - There is a short but steep steps down to the cabin and the loft is accessed via a ladder.
Puede haber ruido - Once in awhile, we need to cut some oak for the goats with a chain saw. We try to do it when guests aren't present, but that is not always possible.
Hay mascotas en la propiedad - We have 3 goats, chickens, 2 cats and a tiny dog.
---
---
El número mínimo de noches por estancia para este espacio varía.
---
What a lovely and peaceful retreat. The hummingbirds were amazing. Gorgeous setting. Twinkly nights backdropped nature sounds and the moonlight. Kitty let me and my kiddos milk her goat. We drank fresh goat milk. Took a small hike in the forest to a dried up creek bed and played with sand toys. Who could ask for more. Things to think about: this might be a place that suits a more grown-up trip. We had our three kids with us, one of which is only 8 months old, and the loft was rather fearfully dangerous for us to let them go up there. And the composting toilet was less than desirable with a newly potty-trained kiddo...definitely an adjustment for us... The mushroom cabin is like the size of a tiny home. So plan accordingly. We will be back, though! But just me and two kids, not our whole family of 5.
---
I'm so glad I reserved the Mushroom Dome 10 months in advance. It is an unique experience worth planning ahead for. The place itself is adorable and cozy. Kitty and Michael are both friendly and kind. The additional thoughtful touches they added to the place showed that they value environmental sustainability and are dedicated to their community, which we appreciated a lot. We had breakfast each day on the deck, spent some time exploring the small trails on the property, and made the easy drives to Santa Cruz, Capitola (a cute and tiny beach town next to Santa Cruz), and Nisene State Park (for the 6-mile Buddha loop hike), all in our 3-day, 2-night stay. Thanks you Kitty and Michael!
---
Aptos, California, Estados Unidos
Se registró en Julio 2009
We live on 10 beautiful acres of sun, oak forest, redwood groves and gardens with a small community made up of ourselves (Kitty and Michael), 1 of our adult sons, 8 other young adults, a Chiropractor, a plumber, and a retired mason, 3 goats, a parrot, 4 cats, 2 small dogs, 17 chickens and over 200 hummingbirds.

Kitty teaches Universal White Time Gemstone Healing, is a healer, artist, builder, farmer and musician.
Michael works at the University of California, Santa Cruz Extension in Silicon Valley, managing the International Education program. He bikes, runs, swims, sometimes all in the same day. Together, Kitty and Michael teach Meditation classes with the "Teaching of Intuitional Metaphysics" under the guidance of the Masters Babaji, Jesus, and St. Germain.

The young adults here are photographers, surfers, artists and/or musicians and budding farmers.
We are slowly turning this land into a permaculture farm and a center of creativity, learning to live simply, with joy and kindness.

We hold a public non-denominational meditation at our house every Sunday night: you are welcome to join us if you are here.

We have been hosting on airbnb since July, 2009 and really love what this company has made possible. We have met so many wonderful people from around the world that we would never have met if we hadn't had this opportunity with airbnb! Some of our guests (especially the ones from Europe) have never seen a hummingbird before and here they get to see them up close - just a few feet from them as the birds "hum" around the feeders.

We welcome you to come experience the peace and tranquility that our wonderful land has to offer.
Índice de respuesta:
100%
Tiempo de respuesta:
en menos de una hora
Descubre otras opciones en Aptos y sus alrededores
Más alojamientos en Aptos: